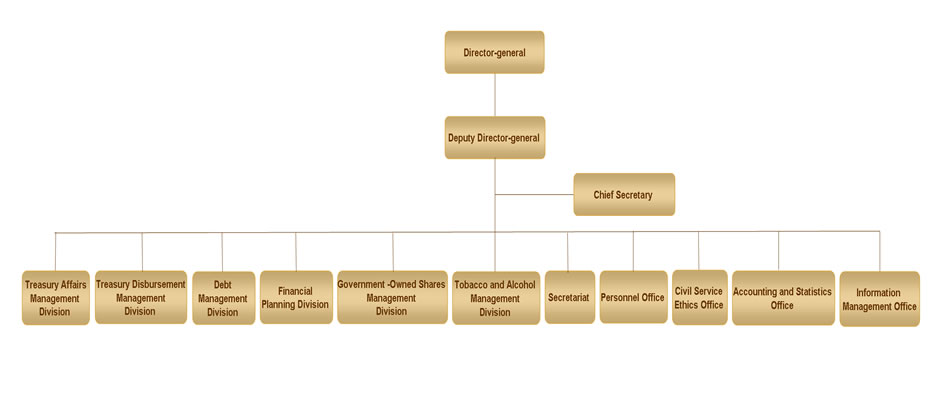 According to the Organization Act of NTA, the NTA has one director-general, two deputy directors-general, one chief secretary. NTA has created Treasury Affairs Management Division,Treasury Disbursement Management Division,Debt Management Division,Financial Planning Division,Government-Owned Shares Management Division,Tobacco and Alcohol Management Division,Secretariat,Personnel Office,Civil Service Ethics Office,Accounting and Statistics Office,Information Management Office to implement the relative duties.
Treasury Affairs Management Division
Planning of the national treasury system;
supervision of treasury affairs;
planning of the management of the central government agency accounts system;
preparation of central government general budget,
additional budget and special budget revenues;
national treasury financial dispatching.
Treasury Disbursement Management Division
Establishment and control of the budget and of the disbursement of National Treasury funds;
payment voucher verification and management;
issuance, review, and control of National Treasury checks.
Debt Management Division
Planning of the public debt system,amendment and explanation of regulations;
planning, issuance, and management of government bonds and treasury bills;
supervision and assessment of local debts;
management and operation of debt service funds and local construction funds.
Financial Planning Division
Co-ordination of major governmental construction expenditure plan;
planning and guidance of fiscal operations at all levels of local governments;
supervising the issue of the Public Welfare Lottery.
Government-Owned Shares Management Division
Management of government-owned shareholdings;
approval and appointment of directors and supervisors of government-owned share enterprises;
approval of annual budget examination of special fund;
management and operation of the fund for the privatization of government-owned enterprises under the Executive Yuan;
management of central government revenues from penalties, indemnities, fees, etc.
Tobacco and Alcohol Management Division
Initiation and amendment of relevant laws and regulations governing tobacco and alcohol administration;
promotion of the Alcohol Quality Certification System;
imported alcohol inspection and related foreign affairs;
issuance of permits and licenses for local manufacturers and for importers of tobacco and alcohol products, etc.
Secretariat
Archive management;
procurement and affairs management;
research studies; press contacts;
and correspondence with the Legislative Yuan.
Personnel Office
Organizational management;
promotions and transfers of personnel;
performance reviews; training and education;
salary packages and welfare, retirement, and pension services.
Civil Service Ethics Office
Advocacy of the Anti-Corruption Act;
project auditing;
internal investigation;
declaration of asset of civil servants;
avoidance of conflict of interest, maintenance of official confidential information, and agency security.
Accounting and Statistics Office
Annual budget, accounting and statistics matters;
budget and accounting of non-profit special funds managed by the NTA;
special official accounting of government debt and administration of receipts and payments.
Information Management Office
Planning and co-ordination of strategies for the supply of information technology services;
planning and management of the IT environment;
planning and promotion of Internet security.